At American Custom Industries, we have been producing fiberglass parts for over thirty years! In that time, we have developed the most complete line of Corvette replacement fiberglass parts, stock or custom, available anywhere.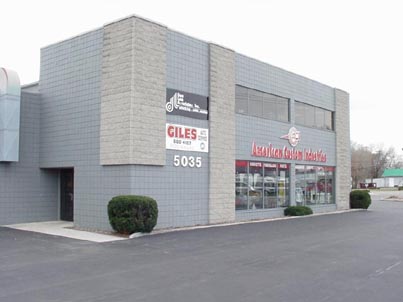 We manufacture all the fiberglass items you see in our catalog. All molds and parts are prototyped and developed by ACI in our in-house R&D department. We also have one of the finest body, paint, and mechanical service centers around, staffed with some of the best Corvette technicians anywhere. This unique combination allows us the ability to test and fit our parts on a regular basis and offer you technical support when you need it. We hope you have a few minutes to take the Tour of ACI.
Quality Control
ACI is developing a Quality Assurance Program. We plan to be the first Corvette fiberglass manufacturer to have a formal QA program. We feel that by formalizing our quality program, ACI will be able to meet the critical demands of the next decade. In the last three years, ACI has increased its technological diversity as well as streamlined its manufacturing. We feel that we are better situated to meet the demands of the next several years.
Customer Satisfaction
Customer satisfaction is very important to us at ACI. After all, our best form of advertising is you, the customer. We have learned over the years that the more we can educate and inform our customers about our fiberglass products, the more we can satisfy our customers.
All Corvettes are not created equal. The same elements that make the Corvette unique and special are also what make repairing and customizing your Corvette unique. From the factory, fenders are bonded to hood surrounds, inner skirts are bonded to fenders, quarter panels to upper decks, and so on. Because of this type of construction, we highly recommend that all replacement fiberglass be fitted to the individual car before any primer or paint is added.
It is well known in the Corvette community that it is not uncommon to perform some minor bodywork in order to get the proper fit for your individual car when installing fiberglass. Because each Corvette is unique, there are very few parts that will simply bolt up and fit.
At ACI we manufacture the finest Corvette fiberglass available. If a problem arises, or if you need technical support, give us a call and one of our support staff will gladly work with you through the installation process.
Visit ACI at Corvette Shows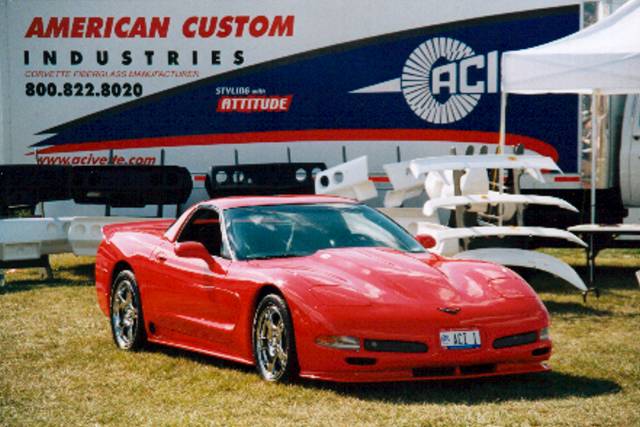 American Custom Industries will be attending most of the larger Corvette shows throughout the year. If you need a part, give us a call and we will bring your order to the show for you. Regardless, stop by the ACI booth at the Corvette show nearest you and check out the hundreds of fiberglass parts that we have on display. A schedule of the shows that we will be attending is listed on our website on the Show Schedule page.
Visit Our Showroom
If in the area, stop by our showroom to discuss your needs with our staff and tour our manufacturing facility. For instructions of finding us, stop by the How to Find Us page.
Dealer Wholesale Program
To qualify for American Custom Industries Dealer Wholesale Program, you must be an auto-related business with a current sales tax license from the state in which you do business. Please give us a call at 419-882-2091 for dealer applications. Our reputation for quality fiberglass and customer service are second to none. That's why all the major Corvette catalog suppliers and hundreds of Corvette professionals choose ACI fiberglass.
Customer Cars
If you have restored, repaired, or customized your Corvette using ACI parts, send us some pictures, include your name, address and phone number, and tell us a little about your car. We would like to add your car to the "Photo Gallery" section of the ACI Website.
Corvette Clubs
American Custom Industries is very proud of our unique facility and the work we do. If your club would like to schedule a private tour of our operation, feel free to give us a call at 800-822-8020.
Gift Certificates
ACI has the perfect alternative gift for your favorite Corvette enthusiast.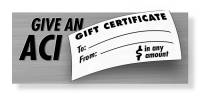 We will send you a gift certificate in any amount that you choose, along with our catalog for your gift giving, or we can mail them directly to the recipient, along with your name on an enclosed gift card.